HDP MPs who arrived in Amed are under police blockade
Turkish police has surrounded the HDP MPs who arrived in Amed with the "On the 100th day, to Leyla to break the isolation" March launched from 15 cities. One MP was injured in the attack.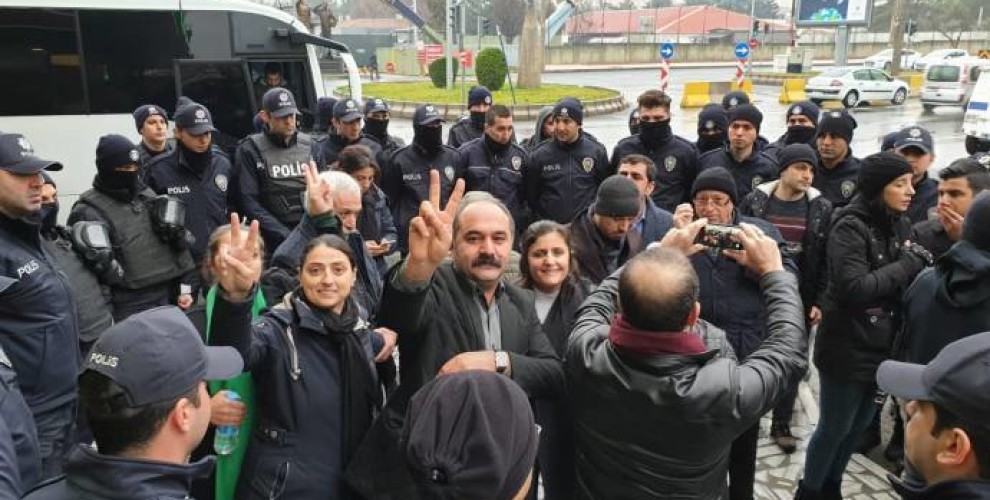 HDP members and MPs set out from 15 cities and arrived in Amed on the 100th day of Leyla Guven's hunger strike. The simultaneous marches were held to show support for Democratic Society Congress (DTK) Co-chair and People's Democratic Party (HDP) Hakkari MP Leyla Guven, who is on a hunger strike protesting the isolation imposed upon Kurdish People's Leader Abdullah Ocalan. 
HDP members and MPs had started the march with the motto "On the 100th day, to Leyla to break the isolation" from Hakkari, Van, Kars, Igdir, Bitlis, Agri, Mus, Sirnak, Mardin, Siirt, Batman, Dersim, Bingol, Antep and Urfa.
The MPs who attended the march are: Hasan Ozgunes, Nuran Imir, Huseyin Kacmaz, Ebru Gunay, Pero Dundar, Tuma Celik, Siddik Tas, Feleknas Uca, Ayse Acar Başaran, Necdet Ipekyuz, Saliha Aydeniz, Sait Dede, Habib Eksik, Muazzez Orhan, Murat Sarisac, Tayyip Temel, Abdullah Koc, Dilan Dirayet Tasdemir, Sevin Coskun, Mensur Isik, Erdal Aydemir, Kemal Bulbul, Alican Onlu, Mahmut Toğrul, Ayse Surucu and Nusrettin Maçin. 
HDP members and MPs have been subjected to police and government pressure and threats since the march started. Despite all obstacles, the group has reached Amed. The march was planned to conclude with a press statement in front of Leyla Guven's home, but the roads leading to the central Baglar district where she lives were barricaded off on Thursday night. Back up police units were called in from neighboring cities, and units and water cannons were deployed at various points throughout the city.
The 500 Evler, Gazi Yasargil Research Hospital, 450 Evler and District Bus Station crossings where the party members were waiting for the MPs were also surrounded by the police.
As the MPs were preparing to march to Guven's home, police chiefs went to them and said they won't allow the march due to a Governorate decree. HDP Mus MP Mensur Isik protested and said legally the march cannot be hindered, and doing so would constitute a crime against the constitution. Following a discussion, the police officials said they will allow vehicles to ride to Leyla Guven's home.
HDP MPs were surrounded by the police again as they went to a private hospital in the Kayapinar district from the 450 Evler Crossing. HDP Amed MP Saliha Aydeniz was injured when the police shoved her and she fell to the ground. 
Aydeniz was placed in a wheelchair and hospitalized. She doesn't have any major injuries. 
Other MPs in the hospital's yard protested the police attack and chanted "Leyla Guven is our honor". 
Journalists trying to cover the MPs' march are prevented by the police.