German leftist to give DNA sample for PKK investigation
A German leftist activist is being forced to submit a DNA sample in the investigation against the opening of a PKK flag during May 1 celebrations held by workers' unions in Freiburg, Germany.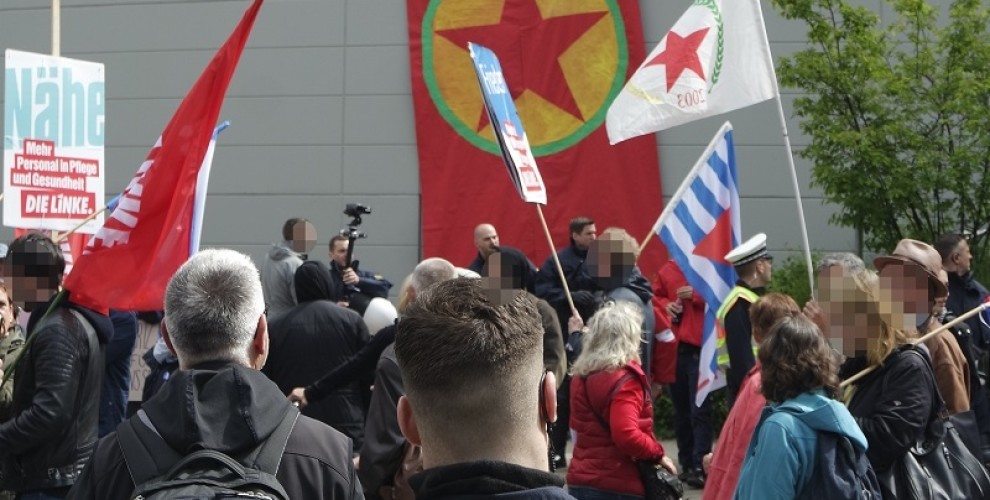 Workers' unions had organized a mass demonstration for May 1 celebrations in Freiburg, Germany and a group of leftist activists had opened PKK, YPG and PYD flags to show support for the Kurdish freedom movement. The group was met with a police assault and one of the activists had been detained for a short while for putting up a giant PKK flag on a building.
According to ANF's German language service, the prosecution is demanding a DNA sample from the activist. This is the first time a defendant is forced to submit a DNA sample in a political case, and the prosecution's decision has drawn protest. The activist will be submitting the DNA sample on May 18 at the police headquarters.
Freiburg Roten Hilfe Spokesperson Anna Fuhrmann pointed out that the decision is geared towards intimidating and criminalizing German leftist groups for supporting the Kurdish freedom movement and said: "It is a shame that pressure similar to that the Erdoğan regime implements against Kurds in Turkey came to pass in Germany too."
"AN AFFRONT ON CITIZENSHIP RIGHTS"
Fuhrmann said taking DNA samples in a political case is an affront on private and personal information and continued: "Especially when there is no criminal case, our friend being subjected to such a practice for only a flag is very telling. Recording personal and private information in political investigations is also an affront on citizenship rights."
Roten Hilfe's ("Red Help") Anna Fuhrmann called on everybody to join the demonstration to be held in front of the Polizeirevier Süd police station on May 18 at 13.00, when the DNA sample will be submitted, to protest the prosecution's decision and to show solidarity with the leftist activist.