German and Turkish FMs meet as Kurds are attacked in Dusseldorf
As the German police attack the Kurds and their political friends in Dusseldorf, it came out that the foreign ministers of Turkey and Germany met in Turkish Antalya city.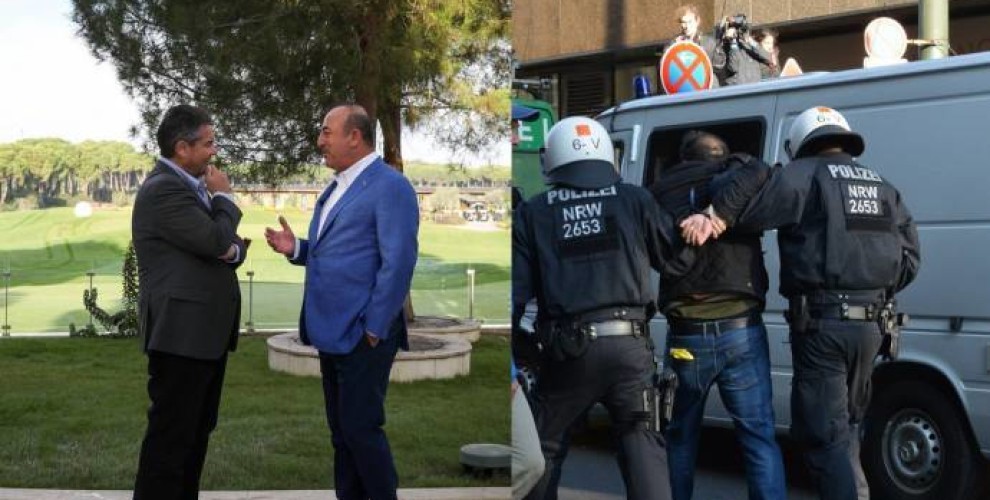 The German police staged a violent crackdown on the people who are attending a massive march in Dusseldorf in protest at the AKP fascism, aggravated isolation of Kurdish People's Leader Abdullah Öcalan and criminalization of the Kurds and democrats in Germany. Police forces attacked masses with water cannons and tear gas on the grounds that posters of Öcalan as well as flags of PKK, YPG and YPJ are banned in the country.
Demonstrators responded to the police attack by raising Öcalan's posters and YPG/YPJ flags even higher, stressing that Europe owes a duty of loyalty to the Kurdish forces that are fighting and defeating ISIS, and therefore cannot ban their symbols.
As the German police attacked the pro-Kurdish demonstrators, it came out that Sigmar Gabriel was in Turkish city Antalya and held a meeting with his Turkish counterpart Mevlüt Çavuşoğlu.
As this non-routine meeting between the foreign ministers of the two countries was not reflected in the press, Çavuşoğlu made a statement on his Twitter account after reports emerged that Gabriel was in Turkey.
Çavuşoğlu said: "We met with German Foreign Minister @sigmargabriel in Antalya and talked about the tough issues between our countries and our expectations."
Turkish government officials, AKP Leader and President Tayyip Erdoğan in the first place, had strongly reacted to Gabriel not long ago while Gabriel had stated in July that they run out of patience in their relations with Turkey, announcing that Berlin would review their policies concerning Turkey. Erdoğan had also said that "Gabriel is not a match for me".
Tensions were followed by claims that German human rights activist Peter Steudtner, who was jailed by Turkey in mid-July, was released as result of a secret deal between Erdoğan and former Prime Minister of Germany, Gerhard Schröder.