Day 50 in the Strasbourg resistance
Visits to the hunger strike in Strasbourg continue. The children's choir Koma Heja were among the people who support the hunger strikers.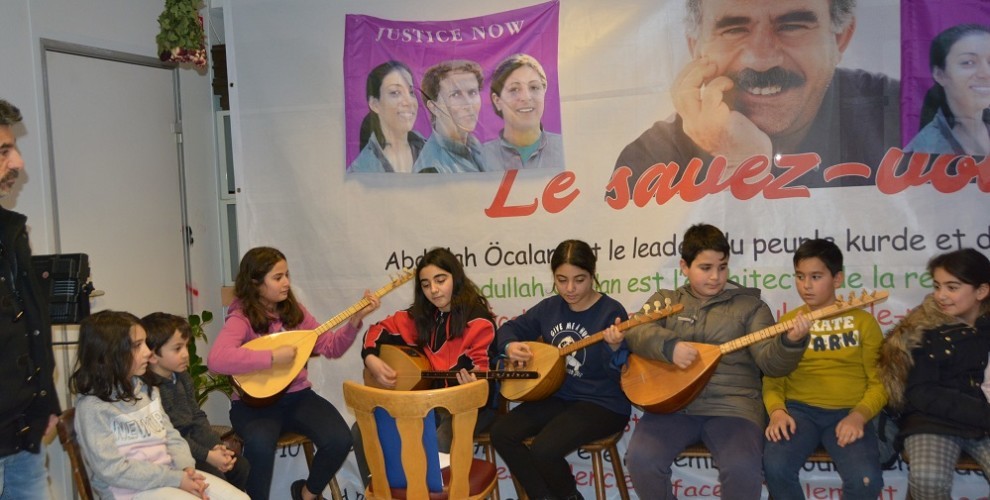 The indefinite non-alternating hunger strike against the isolation imposed upon the Kurdish People's Leader in Strasbourg, France had several visits.
Hundreds of visitors from dozens of cities mainly in Germany arrived in Strasbourg in the morning to show support to hunger strikers.
Visitors came from Heilbronn, Dortmund, Mannheim, Bremen, Luebeck, Munich and Kehl, Germany, Arnhem, the Netherlands and Metz, St. Avold, Mulhouse and Strasbourg, France. Kurdish Revolutionary Youth Movement (Tevgera Ciwanen Soresger) members also visited Strasbourg to support the hunger strikers.
"BREAKING THE ISOLATION WILL CLEAR THE PATH FOR THE STRUGGLE"
Heilbronn Kurdish People's Assembly Co-chair Sevket spoke in their visit and saluted the hunger strikers, adding that their morale and motivation is high. Celik said the hunger strikers give them morale and added that breaking the isolation imposed upon the Kurdish People's Leader will clear the path for the Kurdish people's struggle for freedom. Sevket Celik said Kurdish people everywhere should support the protests and participate in the process through demonstrations.
Alan Ferman gave a speech in the name of Luebeck Kurdish People's Assembly and said Leyla Guven and all others in the indefinite nonalternating hunger strike are waging a sacred struggle.
Ferman stressed that Kurdish people should support the will set forth to break the aggravated isolation imposed upon the Kurdish People's Leader and added that the resistance the people will put forth everywhere will be what allows the breaking of the isolation.
CHILDREN'S CHOIR GIVES MINI CONCERT
Members of the Koma Heja Children's Choir who work in St. Avold, Moselle in France also visited Strasbourg.
The children's choir sang revolutionary songs from Kurdistan to support the hunger strikers.