Cologne in solidarity with Rojava against Turkish invasion
Masses demonstrated in Cologne against the Turkish war of aggression in northern Syria and in solidarity with Rojava. They called for a no-fly zone and effective sanctions against Turkey.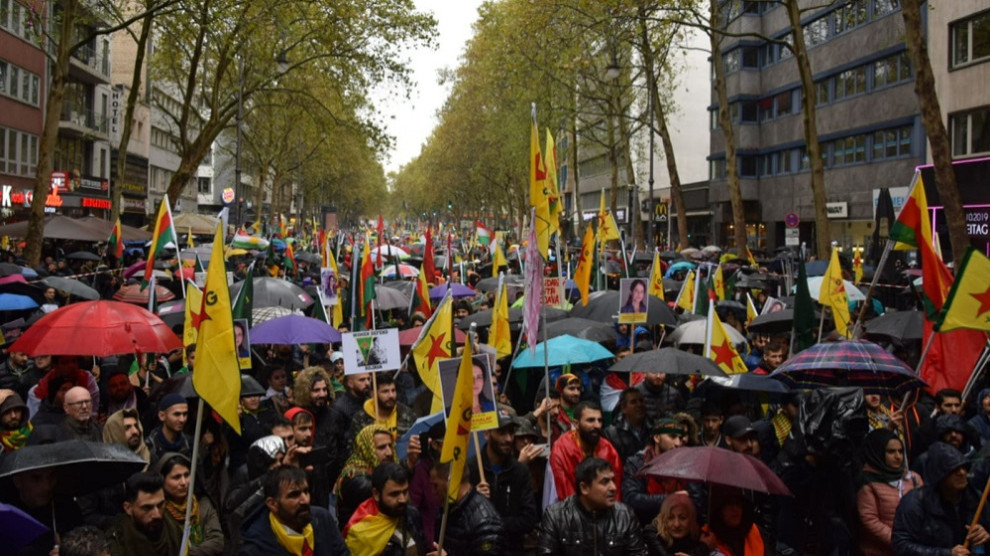 Around 10,000 people took part in a demonstration in the Germany city of Cologne on Saturday in protest at the Turkish incursion into northern Syria. The demonstration was organised by the "Köln Gegen Rechts" [Cologne Against Right] on the call of over 300 academics, feminists, deputies, civil society organisations and Kurdish institutions. 23 federal deputies from Cologne also supported the protest by signing the call for action.
The march, joined by a group moving from Ebertplatz and another from Chlodwigplatz, was joined by deputies from CDU, SPD, Greens and Left Party as well as people from various communities, faith groups, ideologies and professions who united around the Rojava resistance. The participants also included activists from the environmentalist movement Hambacher Forst and Fridays For Future Cologne group, as well as Defend Rojava, RiseUp4Rojava, revolutionary youth movements, and the youth groups of SPD and the Greens.
The two groups met at the Friesenplatz Square in the city center where a rally was held. Speakers condemned the invasion attacks and war crimes of the Turkish army and called for an arms embargo, effective sanctions against Turkey and a no-fly zone over northern Syria.