YPG flag held up in the German parliament
Die Linke MP Sevim Dağdelen held up a flag of the YPG during her speech in the German parliament against Germany's ban on Kurdish symbols.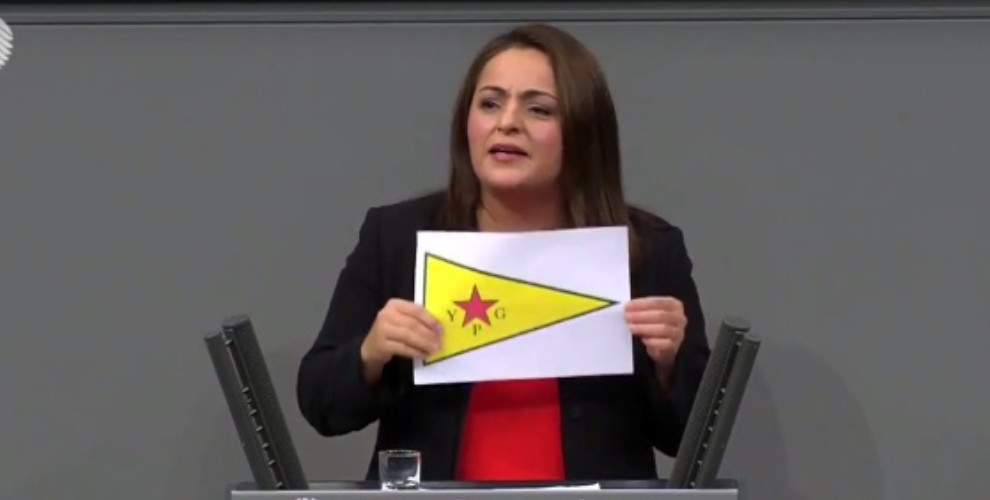 Speaking in the German Federal Parliament (Bundestag), Die Linke (Left Party) MP Sevim Dağdelen criticized Germany for cooperation with Turkish President Recep Tayyip Erdoğan, calling him "the despot of Bosphorus".
Dağdelen called Germany's ban on YPG/YPJ flags "hypocrisy" and put emphasis on the struggle given by the YPG against ISIS gangs for years now. Praising the YPG/YPJ fighters' battle against ISIS in Kobanê, Shengal, Raqqa and other territories in Syria, the Linke MP urged Germany to given an immediate end to the ban on YPG/YPJ flags.
Condemning the ban and calling it a "shame", Dağdelen recalled the deployment of German troops from Turkey to Jordan as part of the fight against ISIS, Dağdelen said it was "cynicism" for Germany to ban the symbols of Kurdish forces that struggle for the same purpose.
Several parliamentarians clapped in support of Dağdelen parliamentarians as she held up a YPG flag during her speech.
Speaking after, Parliament Speaker Wolfgang Schäuble said it was against the rules to hold up YPG flag.