From Amed to the AKP: You are preparing your own end!
HDP members protested the decision by the AKP regime to appoint trustees.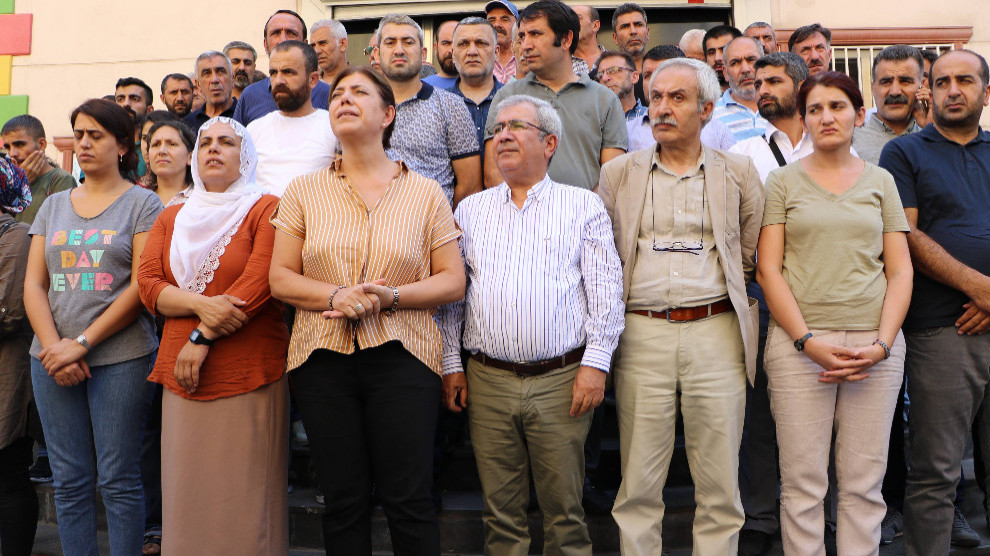 HDP Amed Metropolitan Municipality co-mayor Selcuk Mızraklı who was replaced by a government-appointed trustee was heading the march towards the town hall.
The march that started in the HDP provincial building continued to Koşuyolu Park met by applause and slogans from the surrounding people. The march of HDP people was prevented by the police.
After a long wait, Mızraklı and the HDP members passed in front of the party's provincial building and wanted to make a statement there. The press conference was prevented once again by police.
The HDP members then improvised a sit-in and were finally able to read the statement.
The AKP is preparing its own end!
In the statement, HDP Deputy Meral Danış Beştaş, said the appointment of trustees was a "political coup. When they ordered to remake the Istanbul elections after 31 March - she said - the AKP was actually committing suicide: they did not lose by 800 votes but by 800 thousand!"
Reminding that Mızraklı was elected with 63 percent of the votes, Beştaş stated that the decision to appoint a trustee was unlawful and said: "They are afraid of the people. There is no greater power than the people. The trustees may have entered the municipalities, but they cannot be the mayors of Diyarbakir." 
HDP: Let's join forces!
Stating that the public should not remain silent on trustee appointments, Beştaş said: "Diyarbakır is Antalya, İstanbul is Hakkari. It's not just our problem. The AKP, who has appointed a trustee here today, may appoint one in Izmir, Istanbul and Ankara tomorrow. We must join forces ".
Do you have a prison to jail 25 million people?
Responding to the detention of 418 people within the scope of the political genocide operations against HDP members, Beştaş said: "Those who appoint a trustee are doing operations to prevent the reaction. Put our friends back on their charge and withdraw your trustee. You can take 418 people, but you cannot detain 480,000 people and least 6 million people. You haven't got a prison to jail 25 million HDP members!"