HPG pays tribute to YJA Star commander Ararat Zerzan
HPG remembers female guerrilla commander Ararat Zerzan (Berivan Önal) who died as a result of a lightning strike in Medya Defense Zones.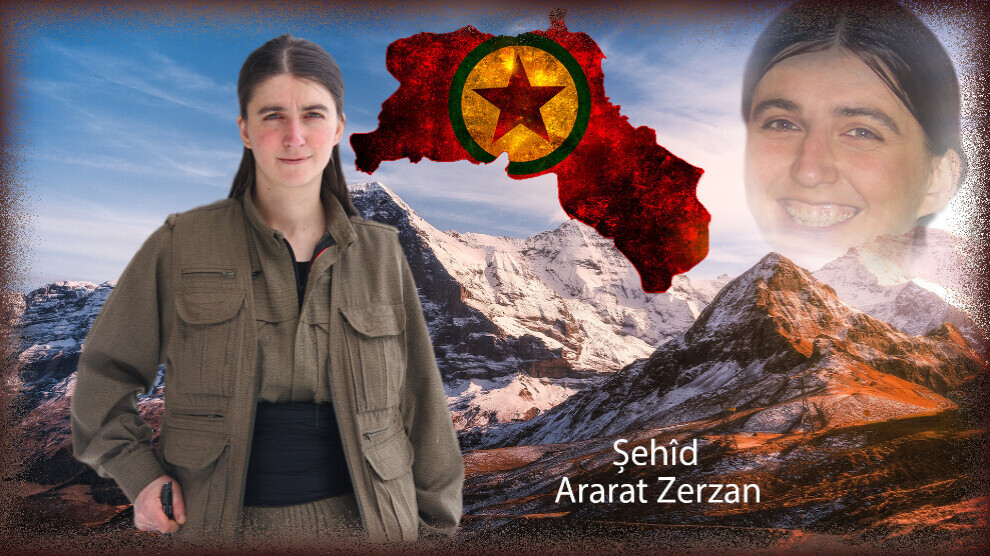 The press center of the People's Defense Forces (Hêzên Parastina Gel, HPG) has announced that guerrilla Ararat Zerzan (Berivan Önal) lost her life last September in a lightning strike in the Medya Defense Zones in southern Kurdistan, northern Iraq.
Regarding the biography of Ararat Zerzan, HPG said: "Ararat was born into a patriotic family and thus learned at a young age about the freedom movement of Kurdistan and the ideology of Apoism. Our friend was formed by an environment that made sacrifices for the struggle for freedom and never bowed to the enemy. During her studies, she joined the Kurdish youth movement and did a lot of work in creating awareness among our young people. She was arrested dozens of times by the Turkish state and the regime tried to separate her from the struggle. However, she did not bow to the threats or violence and continued to fight under any condition. She did not surrender to the occupiers and capitalist modernity even in the metropolises and showed a strong attitude. She fought with deep consciousness and attachment to the ideology of Apoism.
Our friend Ararat had seen the reality of the murderous Turkish state and capitalist modernity up close and made the most radical break from this system. She joined the guerrilla. After her participation, she quickly changed on a personal, emotional and mental level and became an Apoist militant. She was always filled with fighting spirit to answer the isolation against Rêber Apo [Abdullah Öcalan] and to stand against the murderous practices of the regime in Kurdistan. She made success the basis of her actions and was able to fulfill a wide variety of tasks and responsibilities. She managed to fulfill every moment with a legendary resistance and became an exemplary commander of YJA-Star with her upright comradeship, self-sacrificing attitude, smile on her face and the level of women's liberation values she had achieved. Our comrade Ararat trained many of our women friends in professional guerrilla struggle. She was loved and respected by all the comrades and was a leading commander with her devoted search for truth and her struggle for women's liberation.
We will continue the legacy left by our martyrs and realize their dreams with victory. On this basis, we extend our sincere condolences to the family of our selfless friend Ararat and to the entire people of Kurdistan."