Second YPG regiment declared in Efrîn
YPG has declared the second regiment made up of 235 Kurdish and Arab fighters in Efrîn Canton of Rojava.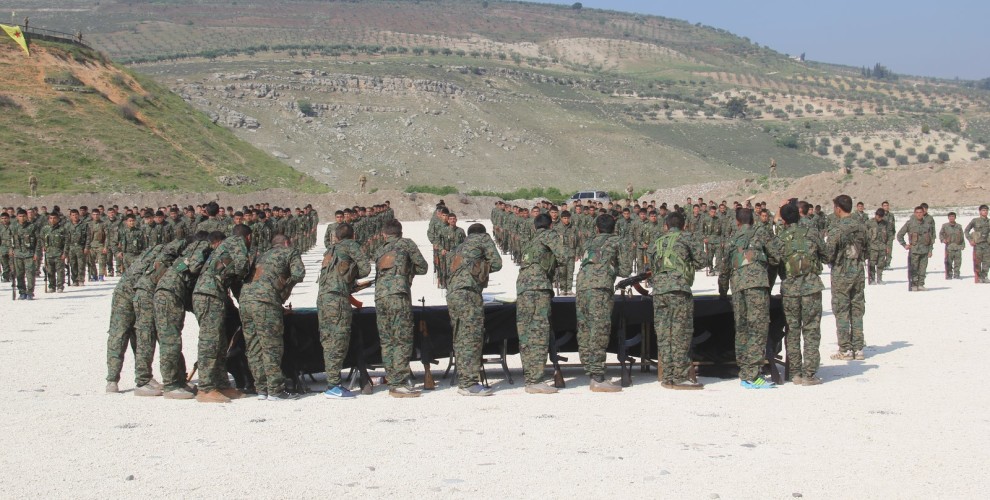 A ceremony was held to mark the end of the two-month Martyr Şiyar Efrîn Training Cycle by 235 Kurdish and Arab fighters in the second YPG regiment in Rojava's Efrîn Canton.
The ceremony, also attended by commanders and fighters from YPG/YPJ (People's/Women's Defense Units), began with a minute's silence, followed by the military ceremony of the fighters.
Speaking here, YPG Commander Masûm Rodî congratulated the fighters that have completed their training and the establishment of the regiment.
"The duty of YPG/YPJ is to protect these lands. All the fighters took an oath to fight to the last drop of blood to avenge their fallen comrades", said the YPG Commander.
Speaking after, YPG General Command Member Mehmûd Berxwedan put emphasis on the importance of the youth's defending their lands amid intensified attacks on Rojava and Northern Syria.
Fighters officially joined the YPG ranks after taking an oath following the speeches.
YPG declared the Martyr Gabar Regiment in Dêrik and Martyr Zana Regiment in Girkê Legê on April 10, Martyr Xebat Dêrik Regiment in Efrîn Canton in February, and 5 regiments in Kobanê Canton before.