SDF Commander: "We are in harmony with Iraq for border security"
SDF Commander Hesen Qamişlo spoke about the Iraqi army and the SDF's decision to create a joint coordination center in Deir ez-Zor and said: "We want to ensure the security of the border with Iraq and prevent the passage of ISIS gangs."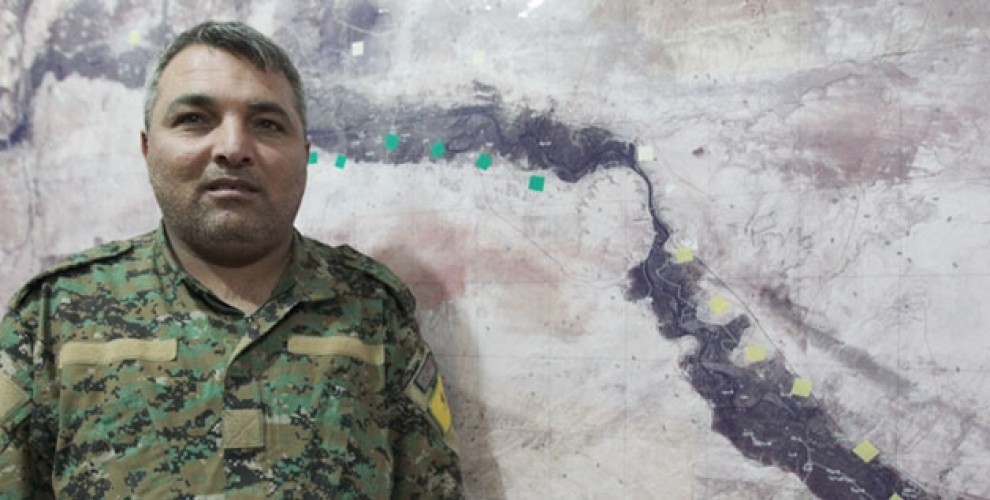 Syrian Democratic Forces (SDF) Commander Hesen Qamişlo spoke to Roj News Agency about the Iraqi army and the SDF's decision to create a joint coordination center to ensure border security for the Iraq-Syria border in Deir ez-Zor on December 10 and the Bagera and Cizirê operations.
Qamişlo stated that the SDF forces went up to the Iraq border on November 23 and that after the border with Iraq was formed, an official meeting for border security was held on December 10. Qamişlo added: "This meeting with the Iraqi army was very important to get information from our units on the border line and to achieve a joint solution for the issues. This meeting was also important in preventing ISIS. The Iraqi army is handling security on the border line and Northern Syria is protecting its own border line. To have harmony between us for border security, this meeting was necessary."
"THE FIGHT AGAINST ISIS IS NEARING CONCLUSION"
Qamişlo said their fight against ISIS continues: "Our fight against ISIS is nearing conclusion. To end the war with ISIS, we need to be in contact with each other. I hope that our relationship with the Iraqi army will be better and more harmonious. We want to take back regions from ISIS, and cut off the gangs. My hope is that these meetings will continue for better relationships. We want to continue the joint efforts to ensure border security together."
"OUR DEFENSE FORCES HAVE BEEN ON THE BORDER FOR A LONG TIME"
Qamişlo stated that their defense forces have been on the border region for a long time and added: "Northern Syrian borders are protected by the border defense forces. The liberated areas come under the SDF border defense forces' control. The area from the Iraqi border line to Syria Shengal and Elbûkelam was used by ISIS gangs until last year. They entered and exited the region from there. This area had a long border that ISIS used to organize itself. Even though nobody lives there, the region is rich in natural resources, regarding oil in particular. These areas were the financial resources of ISIS. These are mountainous areas, and that is why it is of utmost importance that the region is defended so ISIS or other terrorist groups can't use it as before or enter/exit through the borders.
"SYRIAN REGIME IS SILENT ABOUT OUR RELATIONSHIP WITH THE IRAQI ARMY"
 Qamişlo said: "We have determined a date for the meeting. We can meet whenever we want. If it's necessary, we can meet every day. The Syrian regime has been silent about the meeting for now, they haven't issued an official or unofficial statement on our relationship with the Iraqi army."
Qamişlo said the following on the ongoing Operation Cizire Storm (Bagera Cizîrê): "The operation is drawing to a close. Some 95% of the target areas have been liberated in the Operation Cizire Storm. There are only a few villages left that need to be taken under control as part of the operation. This area is close to the Iraqi border in general. Our forces will be launching operations to the centers of these villages shortly."
"OUR DOOR IS OPEN TO ALL"
Qamişlo said: "Our door is open to all. We are prepared to offer any kind of help to develop solutions to the present issues in Syria with anybody in or outside of Syria, with neighboring countries, domestic powers and forces fighting against terror, on the basis of the interests of the peoples."