HPG reports ongoing guerrilla resistance to Turkish invasion
Guerrillas from the People's Defense Forces (HPG) and the Free Women's Troops (YJA Star) killed at least 5 Turkish soldiers in southern Kurdistan (northern Iraq).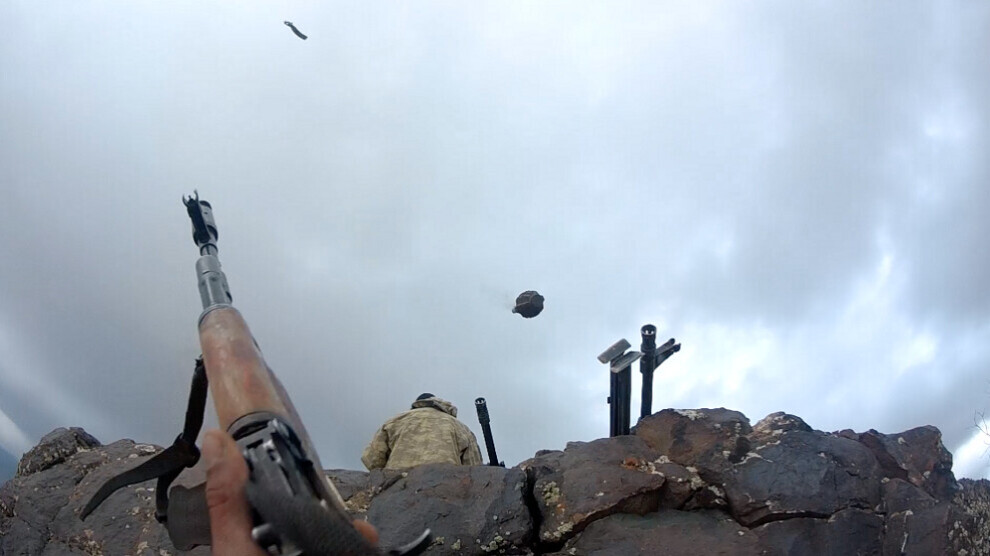 The HPG Press Center announced that guerrilla forces continue their effective actions with the revolutionary offensives they have developed as part of the "Dem Dema Azadiyê Ye" (Time for Freedom) campaign.
The HPG shared the following information on the details of the latest actions carried out by guerrillas against Turkish troops in Medya Defense Zones in South Kurdistan:
"Martyr Delal Air Defense Forces struck the Turkish troops located on the Azad hill in the Zendura area of ​​the Metina region at 10:00 on Tuesday.
Bazên Zagrosê Revolutionary Campaign
On May 4, between 15:50 - 16:00, an action was carried out with heavy weapons against the Turkish troops positioned on Martyr Serdar Hill in the Avashin region. The targets determined in the action were hit effectively. Following the action, the Turkish army shelled the vicinity of Martyr Serdar Hill, Gundê Mervanos and Kanîmasiyê areas with heavy weapons.
On May 4, at 17:50, YJA Star forces targeted a hill in the Small Cilo area of ​​the Zap region, where the Turkish troops had previously positioned. The surveillance camera system placed by Turkish troops on the hill was destroyed by YJA Star guerrillas.
"Cenga Xabur Revolutionary Campaign"
On May 4, at 12:00, Turkish troops on the move on the Suikast Hill in the Xantur area of ​​the Heftanin region were struck using ambush tactic. 3 Turkish soldiers were killed in this successful action.
At 19:00 on May 4, guerrillas infiltrated the position of Turkish soldiers on Hill Tankê in the Zendura area of ​​the Metina region, killing two of them. After the action, the Turkish army retrieved its casualties from the area by helicopters, and intensely bombed the areas of Girê Tankê and Kêste. A fire broke out in the field because of the bombardment.
The attacks of the Turkish army against the Medya Defense Zones are continuing.
Details of the latest Turkish attacks are as follows;
On May 3, the Dergelê and Zendura areas of the Metina region were shelled by fighter jets.
On May 4, the areas of Adilbeg, Aris Faris and Stuna in the Avashin region were attacked by fighter jets.
On May 4, the areas of Martyr Munzur Hill, Qela Mamresho, Mervanos and Martyr Dilgeş Hill in the Avashin region were shelled by the Turkish army which later airdropped soldiers in these areas.
On May 4, attack helicopters bombed the Small Cilo and Qela Bêdewê areas of the Zap region, while helicopters dropped soldiers in the Qela Bêdewê area."
HPG added that guerrillas have not suffered any losses in these intense bombardments carried out by the Turkish army.