HDP MPs Uca and Temelli meet with British deputies in London
HDP MPs Sezai Temelli and Feleknas Uca met with British deputies in London. War and occupation policies of the Turkish government were addressed during the talks between the deputies.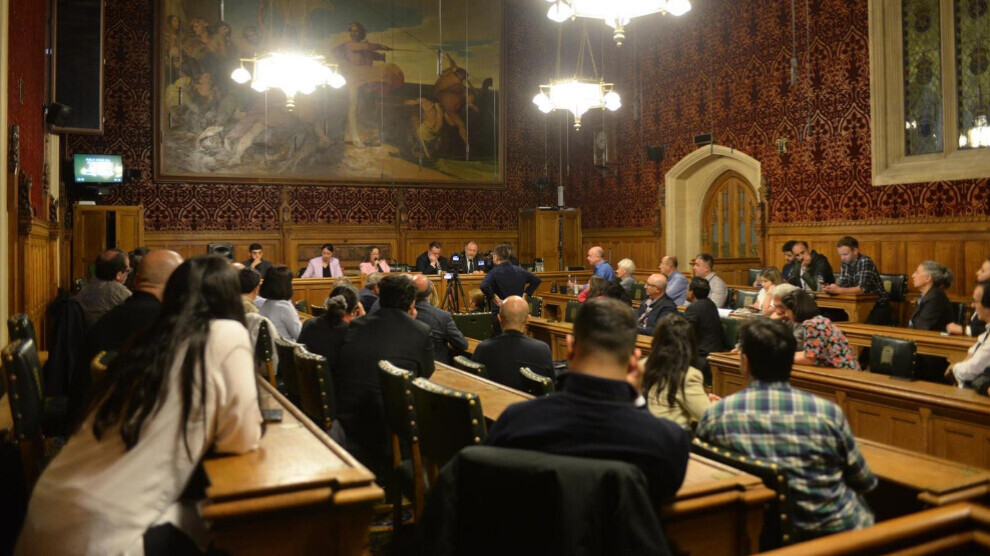 Peoples' Democratic Party (HDP) MPs Feleknas Uca and Sezai Temelli attended a meeting held in the UK Parliament jointly organized by the London-based Centre for Kurdish Progress and the Kurdish People's Assembly.
Chris Stephens, a Scottish National Party MP, also made a speech during the meeting, which was hosted by Kurdish Labour Party MP Feryal Clark. The HDP delegation also met with several other British officials and politicians.
HDP deputies and SNP (Scottish National Party) deputies were present in the special session organized by the Centre for Kurdish Progress in the British Parliament and moderated by British Labour Party MP Feryal Clark. The Turkish invasion attacks on Medya Defense Zones in South Kurdistan and the increasing crackdown on the Kurdish people and opposition groups in Turkey were discussed at the meeting, as well as Europe-Turkey relations.
'TURKEY VIOLATES HUMAN RIGHTS AND RULE OF LAW'
"The Erdogan regime is carrying out serious attacks on democracy and freedoms. Human rights and the rule of law are trampled on both in the Middle East and in Europe through attacks and oppression against the Kurdish people," Feryal Clark said.
'WE REJECT TURKISH ATTACKS'
"The SNP and the HDP are sister parties, and their relations are very strong. We work together. Our party, SNP, asks the Turkish government to immediately stop the invasion attacks in the Kurdistan region. We reject the Turkish attacks. The British government should listen to HDP MPs carefully. The Kurds seek peace and stability in the Middle East and Turkey. It is very important to maintain peace and protect the freedom and identity of the Kurdish people in the Middle East," Scottish National Party MP Chris Stephens said in his speech.
HDP deputies Feleknas Uca and Sezai Temelli spoke about the violations of rights in the country and emphasized the AKP-MHP government's hostility to democracy.
'HISTORIC RESISTANCE'
Uca and Temelli met with Kurds at the Kurdish Community Centre as part of their program. Temelli and Uca spoke at a public meeting which attracted huge interest. The HDP MPs stated that historic resistance has emerged against the occupation and war policies. Temelli and Uca expressed that they did not take a step back against the occupation policies of fascism and called for support for Kurdish leader Abdullah Öcalan's will to resolve issues against the pro-war Turkish government.